MICHIGAN TECHNOLOGICAL UNIVERSITY
When the Association first started, a lot was accomplished with help from MTU faculty and students: making the community aware of the smelter's importance in Keweenaw history, fundraising activities, conducting tours, setting up blogs and much more. That connection changed as students graduated and faculty went on to other activities. With their help, the smelter was on its way to being saved from the wrecking ball.
In 2013 contact was initiated again. We thought the smelter association and the university would benefit from Michigan Technological University involvement.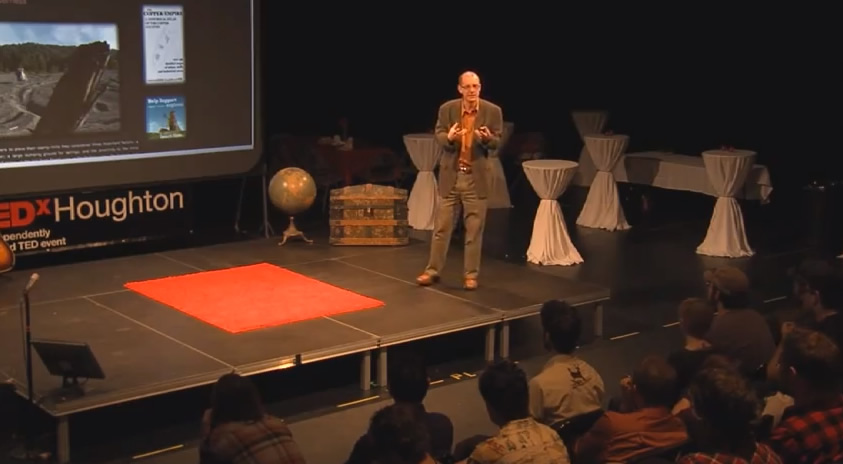 We want to thank Professor Tim Scarlett (above) for all his work and energy in getting students and faculty involved in the smelter. Tim is
director of Graduate Studies in Industrial Heritage and Archaeology.
John Baeten and Joe Licavoli for their help on the tours and the stuff that needs to be done before and after.
Karl Warsinski and Pat Quimby for their blacksmithing demonstration during our tours.
We are appreciative to the University's Marketing and Alumni Relations Departments for including the Smelter in their events again. They made an audience available to us who would not have had an opportunity to see some of the great heritage sites in the Keweenaw.
A film
about the smelter
and our activities was made by students in Erin Smith's documentary media class in the Department of Humanities. It has the quality of a professional production with the haunting touch of a Ken Burns documentary. The student producers are:
Vienna Chapin,
Devin Leonarduzzi,
Reyna Bennett,
Megan Cole. Congratulations!
Let us know when its out. We want to see it again.
We wish you all the best in 2014. And for another great year of collaboration!
The Cupola building