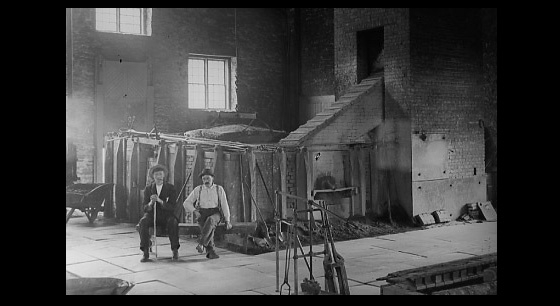 These guys are waiting to show you their stuff
(Courtesy of Michigan Technological University Archives)
We're ready to guide you through our next tour day at the smelter.
July 19th, 2014
11:00 AM to 3:00 PM
The Quincy Smelter Association hosts tours monthly so visitors such as yourself can see the only intact copper smelter from the American Industrial Revolution around the turn of the 20th Century. See much of the original machinery used to turn ore into copper ingots. Not only can you see the original equipment from the smelter's construction in 1898. But our guides will point out the major changes in the Great Expansion of 1920. We look forward to showing this and much more.
Since much of the tour is spent in the buildings, this is a great event even on rainy days.
Directions: Turn right after crossing the bridge on to M-26, go 1/4 mile to the sign on the right.
The smelter is a former industrial site. We recommend wearing closed shoes for your safety.
For a full listing of our tour dates for 2014, see the previous post on this site.
The Quincy Smelter Association is a non-profit organization authorized to give tours by the owner, Franklin Township.